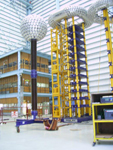 High Voltage Test Systems
has recovered former testing dept of Passoni Villa when purchased by Alstom in 2008. We now officially secure aftersales service on impulse generators, DC generators and all accessories formerly manufactured in Milan / Italy by Passoni Villa.
Please consult us for your existing equipment , for maintenance or repairs.